For many Westchester residents, golf is a way of life, and the area is home to some beautifully designed courses for all skill levels. For a century, Westechester has been a hub of world-class golf courses, and Golf tourism has become a major part of the area's livelihood. Keep reading to discover the golf courses of Westchester County.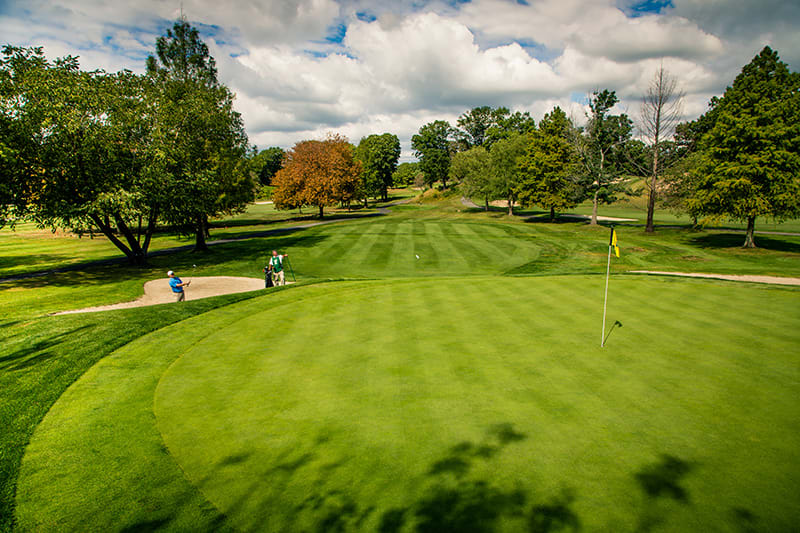 Dunwoodie Golf Course
Dunwoodie lies at the top of Dunwoodie Heights in the center of the City of Yonkers. It is characterized by dramatic topography and steep slopes. Its layout is a mix of narrow fairways to rolling wide landscapes. The design of the course takes advantage of the natural topography, resulting in a challenging game. The course's 1st and 15th tees have recently been expanded, and lobby and ticket window areas have recently been renovated.
1 Wasylenko Lane, Yonkers
Phone: (914) 231-3490
Hudson Hills Golf Course
Hudson Hills Golf Course is a 7,000-yard, par-71 championship golf course that takes full advantage of its setting in the Hudson River Valley. Perched atop the first tee, golfers are treated to a beautiful vista, with nearly one third of the golf course in view. But don't be too distracted by the beauty of this hilly countryside, because strategically placed golf shots are paramount to mastering it. Hudson Hills Golf Course entertains golfers with beauty and challenge, and gives them the unique opportunity to use every club in their bags. These qualities, combined with superior golf course maintenance and customer service, add up to an exceptionally satisfying golf experience.
400 Croton Dam Road, Ossining
Phone: (914) 864-3000
Lake Isle Country Club
Lake Isle is a town owned recreational facility situated on White Plains Road in the heart of Eastchester. The Town purchased the 116 acre former private club site in 1979. Additional pools and tennis courts were added prior to opening. The newly created public recreational facility was planned and continues to operate on a financially self-sustaining basis. Attractive and affordable golfing, swimming and tennis are available on a seasonal basis.
Lake Isle Country Club offers:
18 hole championship golf course
Indoor & outdoor tennis all year long
5 beautiful pools: Olympic pool, diving tank, 2 kiddie pools & adult pool
Catering: world class cuisine and entertainment from Mulino's at Lake Isle
660 White Plains Road, Eastchester, NY 10709
Phone: (914) 961-3453
Maple Moor Golf Course
Maple Moor was named for the abundance of maple trees on the land, and the course's property was originally part of the Griffen family farm. When acquired by the Westchester County Parks Commission in 1925, there was already a 9-hole golf course on the property, but by the end of 1927, all 18 holes were unveiled to the public.
Maple Moor was recently renovated with new bunkers, sand traps, cart paths, irrigation systems, drainage systems with retention ponds, as well as extensive renovations around the course.
The course also has practice greens and a catering facility in the clubhouse.
1128 North Street, White Plains
Phone: (914) 995-9200
Mohansic Golf Course
Rolling hills and moderately steep slopes combine to make Mohansic the most challenging of Westchester County's golf courses. Its many tight holes and uphill, downhill and sidehill shots are excellent tests of golfers' abilities.
All 18 tees have recently been fully renovated, several greens have been upgraded, and there is a driving range.
1500 Baldwin Road, Yorktown Heights
Phone: (914) 862-5283
Pehquenakonck Country Club
Pehquenakonck Country Club is a semi-private golf course located in North Salem. If you are looking for a challenging, family friendly golf course that is impeccably maintained and affordable, then this is a perfect place to play with friends and family.
The nine hole course, built in 1923, is nestled in one of the most beautiful areas of Westchester County. You can expect many challenging shots as there are plenty of elevation changes and two sets of tees, so you can actually play the course twice with completely different looks at the fairways and greens. The fairways vary in width, and the greens are well maintained with bordering sand traps.
101 Bloomerside Road, in North Salem
Phone: (914) 669-6776
Pound Ridge Golf Club
Designed by Hall of Fame architect Pete Dye, Pound Ridge Golf Club presents as stern a test as any in the world today.
"If you create in the mind of a golfer that he can remember some of the holes, that's extraordinary. And then, if you make it look, and it will look very demanding, if it's still playable you've hit a home run."
-Pete Dye
Dramatic rock formations have been left onsite, creating one of the most visually stunning settings for golf in the U.S. with more than 14,000-linear-feet of rock wall surrounding trees, wetlands and water hazards.
18 High Ridge Road, Pound Ridge
Phone: 914-764-5771
Saxon Woods Golf Course
Saxon Woods' Golf Course features a rolling, wooded landscape, giving this sporting course tremendous character. It was designed by golf course architect Tom Winton and opened to the public in 1931.
Today all of Saxon Woods' tees have been completely renovated, along with several greens.
The course also has a new restaurant and concession.
315 Mamaroneck Road, Scarsdale
(914) 231-3461
Sprain Lake Golf Course
Designed by golf course architect Tom Winton, Sprain Lake Golf Course is characterized by small greens, rolling terrain and a number of highly challenging holes. It also features an abundance of water hazards and difficult shots. Because of its long and narrow layout, Sprain Lake offers a mostly linear, back-and-forth style of play.
290 East Grassy Sprain Road, Yonkers, NY
(914) 231-3481
Meet the Schwartz McCrossan Team
The Schwartz McCrossan Team is the Leading Team in Westchester, Putnam, and Lower Fairfield Counties. We are dedicated to providing outstanding service, invaluable insights and expert negotiation.
If you'd like to discuss your Bedford real estate goals, feel free to give us a call at (646) 937-1897, or email us at smteam@compass.com.