With its plethora of outdoor activities and historic, well-preserved environment, Westchester County offers a great quality of life. Westchester's Beaches also add to its charm, and make for much-appreciated, nearby getaways to relax with family and friends in the summer months. Keep reading to discover the best beaches that Westchester has to offer!
Croton Point Park Beach
Croton Point Park Beach, located in Point Park, is situated on the east shore of the Hudson River and is operated by Westchester County. About an hour drive north of New York City, this beach allows for swimming in designated, lifeguard-protected areas.
If you're feeling adventurous, you can rent a kayak and explore the coast, and the park itself also accommodates camping on this historic peninsula. This is the site of what are thought to be the oldest wine cellars in New York State, and you can learn more about the natural history of the area at the Croton Park Nature Center.
The park is about year round, and there is a $10-per-vehicle admission fee on the weekends between Memorial Day and Labor Day. There are also swimming area fees depending on the day, age of swimmer, and season.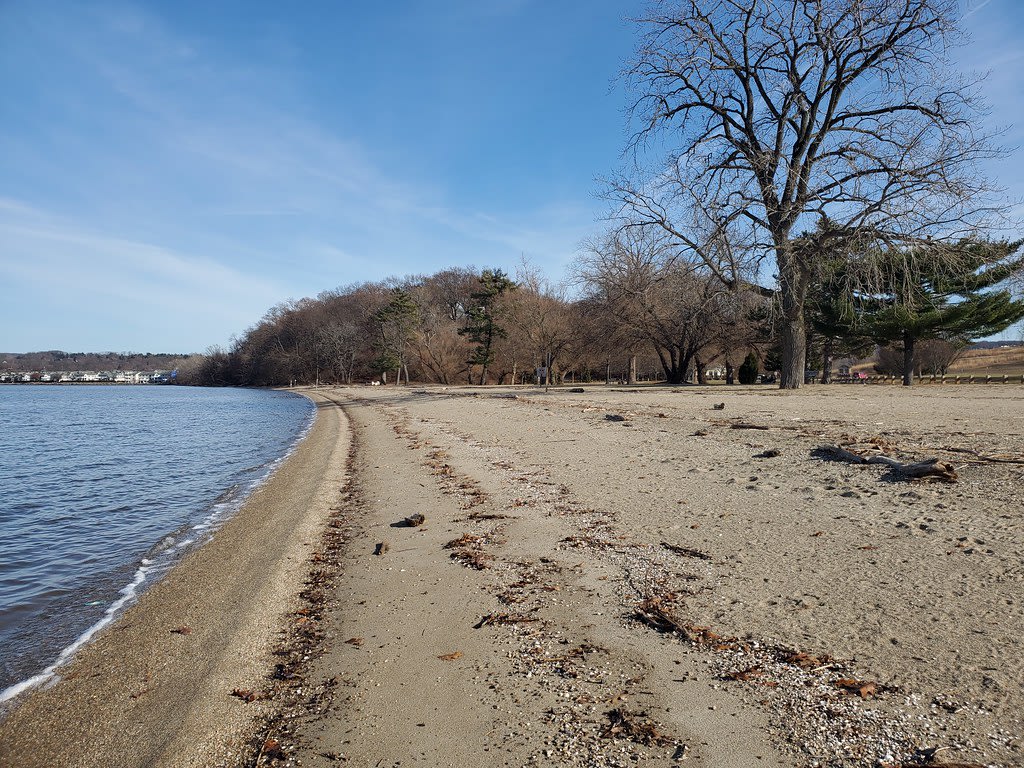 Glen Island Park
Glen Island Park is a 105-acre island property connected to New Rochelle thanks to a drawbridge from the 1920s. This is the second most widely used park in the County Park system after Playland.
The Park was originally developed as a summer resort by John H. Starin, and the original design featured the five cultures of the western world on individual islands linked together with piers and causeways.
Today, the islands have been merged with fill areas, and make up 130 acres, providing a gorgeous, crescent-shaped beach with access to the Long Island Sound.
You can also enjoy picnic areas, boat launching (roughly 70 per weekend), walking trails, a catering hall, and a restaurant that was formerly Glen Island Casino. Cannons, sculptures, arched openings and round towers are historic, fascinating remnants of Starin's resort.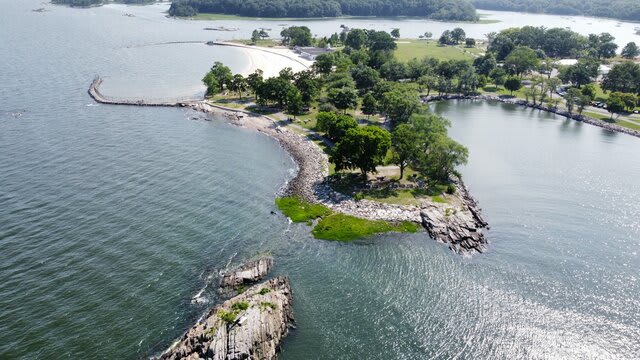 Playland Beach
Located in the City of Rye, Playland Beach is coined as Westchester County's most visited stretch of beach. The beach is just one attraction of Playland, which includes an amusement park, making this beach a big attraction for families. Visitors to the beach will find an outdoor shower, a refreshment stand and a first-aid hut.
Playland Beach is also a dog-friendly beach. Dogs are welcome to join their owners on the beach from October 1st until April 28th. There is a limit of 3 dogs for each owner and dog walking services are prohibited all year round. They do have to be kept on a leash under 6 feet.
The beach is open to everyone from 11am to 6:30pm on weekends through June 21st and Wednesday through Sunday from June 22 - August 19th. Admission and parking fees are in place.
Harbor Island Park Beach
Located in the Village of Mamaroneck in Westchester County, Harbor Island Park Beach is open to everyone with an admission fee. You can swim on weekends until June 21st, and daily between June 23-Labor Day from 9:30am to 5pm. Parking is available for $6 on weekdays and $8 on weekends and holidays.
Apart from the beach, the park itself is equipped with plenty of kid-friendly activities and other amenities, including a playground, spray ground, showers, marina, tennis club, picnic tables, ball fields, as well as concerts and special events (e.g. Harborfest)
Hudson Park and Beach
Hudson Park and Beach are located at the south end of New Rochelle on Hudson Park Road. It features a grassy recreation area with a playground, a music bandshell, seating area, bathing beaches and parking. Parking fees are in effect from Memorial Day weekend through Columbus Day.
Hudson Park and beach attracts all ages to this shore point. Hundreds flock here every weekend year round. The park is especially popular in the summer months, and often features a lively atmosphere with music, singing, and nice crowds.
Oakland Beach
Oakland Beach is found in the city of Rye in Westchester County. The 1200-foot white sand beach is open to the general public and offers access to the shores of the Long Island Sound.
There are three access gates to this crescent shaped beach—the north gate near Rye Beach Avenue, the south gate on Dearborn Avenue and the center gate next to Seaside Johnnie's Restaurant.
The beach is open for swimming from the Friday before Memorial Day until Labor Day from 9am until 5pm. Lifeguards are on duty during these hours, and parking and beach admission fees are in place at the beach.
Meet the Schwartz McCrossan Team
The Schwartz McCrossan Team is the Leading Team in Westchester, Putnam, and Lower Fairfield Counties. We are dedicated to providing outstanding service, invaluable insights and expert negotiation.
If you'd like to discuss your Bedford real estate goals, feel free to give us a call at (646) 937-1897, or email us at smteam@compass.com.